NOTICE TO CUSTOMERS: We are open and shipping on or ahead of schedule!
These are some of the most frequently asked questions related to custom car fresheners. If you don't find what you're looking for, please email us.
How is my custom car freshener price determined?
Quantity, Shape, and String Color. The more you purchase, the lower the per-piece price goes. Not all shapes are created equal. Some are easier for us to make, and are therefore less expensive. Our custom air freshener shapes are separated into tiers, with "Tier 1" being the lowest cost. White string is included free of charge. All other string colors carry a small additional charge. Please refer to our pricing page for more information.
What is the minimum order?
Our minimum order is as low as 8 for some shapes. For most custom air freshener shapes our minimum order is fifty pieces, but check the
shapes page
to be sure!
Can I get a sample before I order?
What fragrances do you offer?
Cherry
Vanilla
New Car
Strawberry
Citrus
Lemon
Dark Ice
Pina Colada
Peach
Guava
Cinnamon
Fresh Air
Cucumber Melon
Black Raspberry Vanilla
Paris Hilton Replica
Jasmine
Baby Powder
Pine
Sweet Pea
What happens after I place my custom car air freshener order?
You'll receive an order confirmation email outlining the rest of the process. If you've chosen to receive order status updates, then we'll send you an email every time your order moves to the next process in our factory.
Can I pay with check or purchase order?
At this time, we only accept credit cards.
What if I have a problem with my order?
Do you use recycled paperboard for your fresheners?
Yes, our custom air freshener board is 25% pre-consumer waste. Believe it or not, the recycled portion is from disposable diapers. Remember….. I said PRE-consumer waste.
What is the product shelf life?
Shelf life is two years, if stored in a cool dry place.
Are the personalized air fresheners individually wrapped?
Yes, they come individually wrapped in a clear plastic wrapper
How thick is the car air freshener paperboard?
We use 85pt paperboard (about the same thickness as a nickel).
How long does the smell last?
Once taken completely out of the wrapper, the personalized air freshener should provide a pleasant aroma for at least 10-15 days in mild climates. Expect aroma longevity to decrease in hot climates. If only a portion of the wrapper is taken off the freshener, aroma longevity will be greatly increased.
Do you do custom shapes?
We are unfortunately not offering custom shapes at this time. If a custom shape is required, and you're prepared to order at least 5,000 pieces, we recommend
CustomFresheners.com
.
Can I do a custom fragrance?
We are unfortunately not taking orders with custom fragrance at this time. If a custom fragrance is required, and you're prepared to order at least 5,000 pieces, we recommend
CustomFresheners.com
.
How long will it take to make and receive my order?
Our normal production time is three weeks, however, we offer several rush options down to 24 hours. We also offer several shipping options down to 24 hours.
How much for 2-sided printing?
Our standard pricing includes printing on both sides of the Freshener: It's our "Buy 1 side, get the 2nd side free" guarantee!
Proudly made in the USA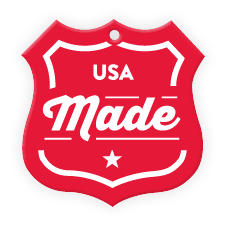 Our products are 100% USA made by seasoned industry professionals. No cutting corners around here.
See Our Shapes