NOTICE TO CUSTOMERS: We are open and shipping on or ahead of schedule!
Printing on custom car fresheners can be a little different. Please review the tips below to ensure you get the best results on your new custom air fresheners!
Custom Car Freshener Material is Absorbent and Textured
Our custom air freshener paper is designed to be ultra absorbent, and as such, causes colors to be slightly muted, (black in particular) and decreases resolution.
Original Artwork
Actual Freshener
Close Up Shots Work Best
By using a close up shot, you are able to see more detail in the photo.
Original Artwork
Actual Freshener
Far Away Shots Lose Definition
Original Artwork
Actual Freshener
Small Text is Hard to Read
We recommend at least 10pt font to ensure legibility.
Original Artwork
Actual Freshener
Borders are Not Recommended
Including borders in your custom air freshener artwork will accentuate any printing misalignment between Side 1 and Side 2 of your freshener.
Chance of Yellowing With Time
In certain conditions, the fragrance may cause yellowing of your personalized air freshener's unprinted areas over time . The more color, the less noticeable the yellowing will be.
Top Quality Materials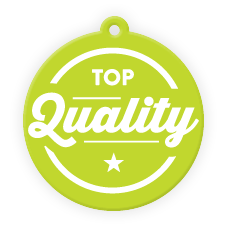 We use the top quality materials to give your freshener a sturdy, durable feel with vibrant printing and a great fragrance.
Sample Requests